In all honesty, you can just read this story here and you'll know why Mo is my new favorite Yankee. Below is just my personal spin on it.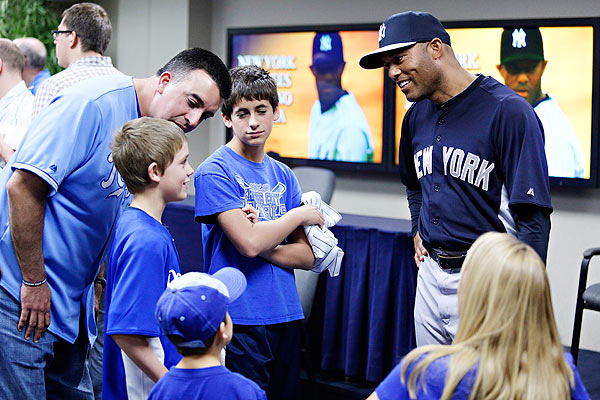 I was 6 years old when I first saw Derek Jeter slash a hard grounder up the middle for a single, a Jeterian single, if you will. It was his rookie year, and there was just something about him that I loved as a kid.
There's a lot to love about Jeter, and that's why he's an icon to so many kids. He's the captain of the Yankees. He always seemed to come up with a clutch hit or make the jump throw play deep in the hole.

It was no coincidence I chose shortstop as my first position recreationally (and yes, I attempted the jump throw many times to no avail). But as I got older, playing baseball more competitively, I took after control pitchers like Mike Mussina and Andy Pettitte. I'd try to paint the corners and spot big, looping curveballs for strikes. I knew if I had control like them I could still be effective even if I wasn't the fastest pitcher. In my best playing days, I was a reliever and whipped out my imitation of Mo's cutter.
It worked! I didn't break any aluminum bats, but I threw the cutter as naturally as my fastball, like Mo.
Anyway, my development into a reliever from an infielder is just one reason why Mariano Rivera has ousted Jeter as my new favorite player. Another reason is that he truly is the most respected player in the game.
Mo's farewell tour this year opened my eyes. I had heard small stories about it during Yankees broadcasts and seen pictures of him speaking to longtime ballpark workers. But I hadn't heard
the full story
.
His generosity and compassion is reminiscent of the late, great Stan Musial.
Read this
if you're not sure what I mean.
These sessions were supposed to last 30 minutes before pregame stretching, but as the tour rolled on they grew to 40 and then 50, sometimes even clearing an hour. The coaching staff would occasionally get concerned with the spillover, and so be it. Mariano Rivera didn't think a half-hour was cutting it for what he had to say and, more importantly, for what they had to say.
S/O to John Sterling for directing me to this story during last night's broadcast.